Monday, August 16, 2010
SUPRA TK SOCIETY RED PERF, GREY PATENT & PURPLE SUEDE SNEAKER UNBOXING!!!
Terry K Supra coming soon
Posted by

Fly Fashion
at 12:39 AM

Radii "Gilligan High"
This is hot, the concept behind this shoe is crazy! It's the box that they come in that has folks trippin' out, not to mention the shoe is nice all the way around. The Leather/Paten Leather upper gives that unique sneaker look; mixed with the casual boat shoe style. ***It comes in a box that looks like a cereal box, like Wheaties or Kix. Plus, they come with a hot accessory, the "Silver Spoon" that fits on your key chain! Can you say, FILTHY! Available at Fly Fashion/$90
(Red Black White)

Radii "Hampton"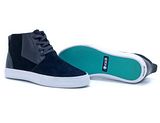 What you know about stayin' Fly? Check out the casual but fashion forward Hampton, which can be worn as street wear or casual, opportunities are endless! Available now at Fly Fashion/$80
(Black Suede)