Thursday, April 11, 2013
#CelebrityRealtor @JayMrRealEstate Talks Home Ownership w/ @Power1051 @B...
MEET Mr Jay Morrison who was a EX Drug dealer who decided to clean up his act and go legal and use the energy of his street hustle in the real estate world. We all have choices remember hustlers sizzle out but professional business minded individuals last in this world. Tap in
Posted by

Fly Fashion
at 1:39 AM

Radii "Gilligan High"
This is hot, the concept behind this shoe is crazy! It's the box that they come in that has folks trippin' out, not to mention the shoe is nice all the way around. The Leather/Paten Leather upper gives that unique sneaker look; mixed with the casual boat shoe style. ***It comes in a box that looks like a cereal box, like Wheaties or Kix. Plus, they come with a hot accessory, the "Silver Spoon" that fits on your key chain! Can you say, FILTHY! Available at Fly Fashion/$90
(Red Black White)

Radii "Hampton"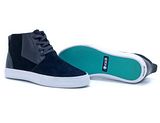 What you know about stayin' Fly? Check out the casual but fashion forward Hampton, which can be worn as street wear or casual, opportunities are endless! Available now at Fly Fashion/$80
(Black Suede)